Headquarters
Location
Rundforbivej 303, 2850 Nærum
Client
Aberdeen Asset Management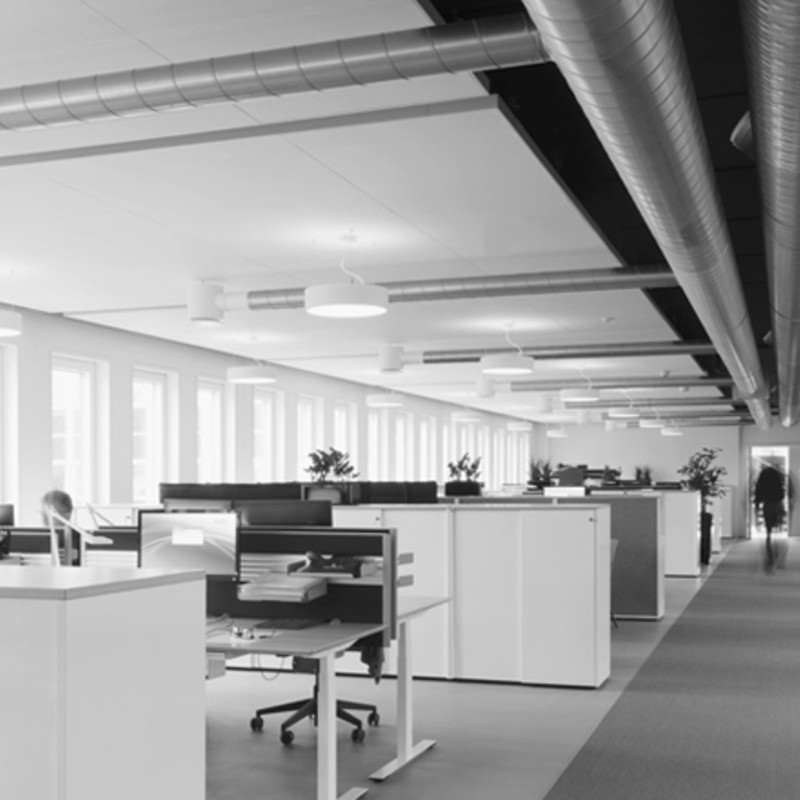 AG5 was engaged by Aberdeen Asset Management to design and manage a major transformation of an existing building from the 1980's into a modern headquarters for Willis, Denmark. The project involved securing a better work environment through increased day-lighting, specially designed ceiling/under-floor cooling and a new ventilation system. Furthermore part of the canteen was replaced with a new structure incorporating a green roof which together with the landscaped courtyard ensures better rainwater management and biodiversity.
The interior was remodelled from closed cellular offices with low ceilings, to an open workplace exploiting the full room height by exposing the ventilation. The ceiling is divided into sections allowing air cooled from the retrofitted thermally cooled decks to mix with fresh air supply creating an energy efficient ventilation system. LED lighting and low energy usage computers also keep cooling requirements to a minimum.
Parts of the floor are kept in concrete screed to ensure good thermal mass whilst contributing to the overall industrial style. This is contrasted with precision made glass partitions and oak clad walls. The focus on creating an attractive workplace that encourages knowledge sharing is also evident in the canteen which can be used for informal meetings or larger company gatherings.