Gymnastic halls
Location
Jens Jessensvej 16, 2000 Frederiksberg
Client
Frederiksberg Idræts Union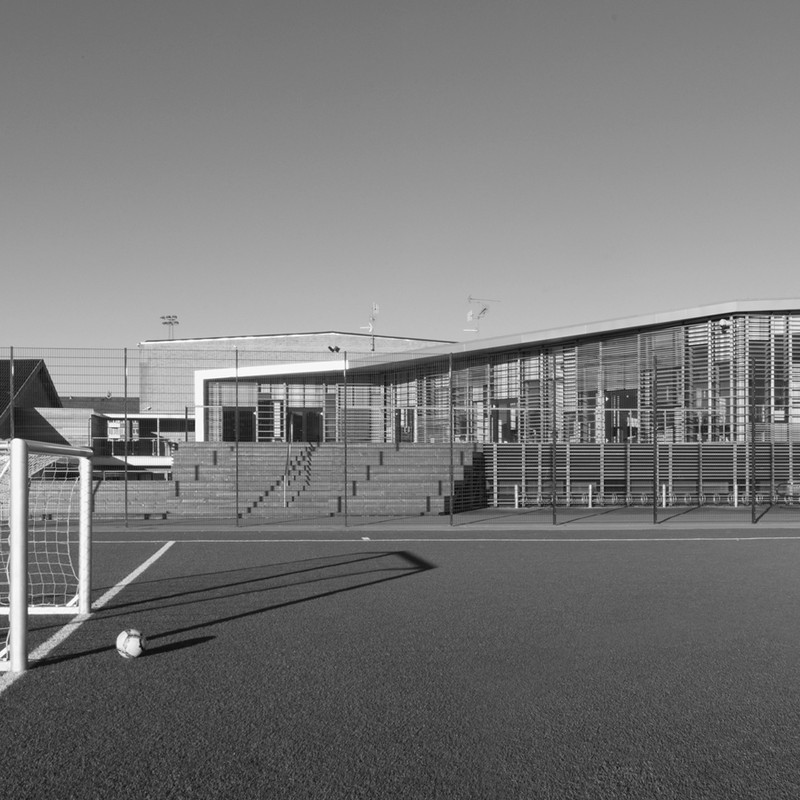 How does one extend a series of different structures all reflecting the various spatial requirements of different sports? Knowing that this is the final building in a long line with a predominant position overlooking football fields, should one make a statement, or seek to continue the row of aluminium structures?
The client's brief was to create eight desperately required changing rooms, an extension to the existing café, and clubrooms for the handball and football clubs FIF, BK Ydun and FA2000.
By organising the programme such that the changing facilities are placed in a semi-basement we could offer the client the benefit of a 250m2 terrace orientated towards both the football fields and sun. Through a series of wind simulations, an ideal "cut" into the building was generated to protect the terrace from prevailing westerly winds. The building's form simply lifts the wind over the outdoor terrace. Conceptually the new building becomes the head of the snake in the story about the Little Prince (Le Petit Prince) and hence the window "eye" towards the street.
The materials are limited to aluminium and timber. The aluminium continues the material and volumes of the existing sports facilities and wraps the roof with two of the three facades. In contrast, timber is employed where the form is cut away, providing necessary sun shading to meet energy requirements, and for the terrace and steps connecting to the playing fields. The timber sun shading slats refers to wall bars in gymnastic halls and tie the steps into the volume of the building. In addition, the slats screen the changing rooms' windows to provide privacy yet natural daylight. The closed façade elements and the internal window mullions are also timber products.
The project focuses on optimising daylight conditions, sustainable materials and energy optimisation, conforming to the strict Danish low-energy 2015 classification.